It's been awhile since i've released a new pattern!  Instead of just one pattern, I thought it would be more fun to release three new patterns!  All of these quilts have been made or in the works for some time now, and it feels good to finally have the patterns available.
Feathered Nest has been shown here more than once, and i've had several requests for the pattern.  Its been in the works for awhile, and I finally gave myself the kick in the pants to finish it up.  Feathered Nest was originally shown at the Sisters Outdoor Quilt Show two years ago, and currently hangs in my bedroom.  I love this pattern for it's simplicity.  There are so many fabric possibilities for each of those feathers and the white space is a great way to play around with quilting.  It's one of those quilts where the quilting can take it to a whole new level.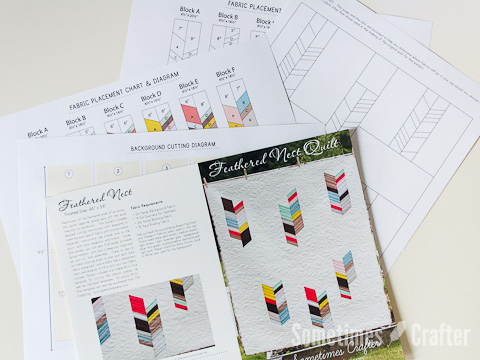 The pattern includes diagrams for cutting your fabric, as well as for piece placement.  I've also included printable group markers to help you stay organized when cutting and assembling the feathers, and coloring pages for the quilt top and fabric placement diagram.  I have done my best to try and help you stay organized while making this quilt.
The quilt itself uses an all-in-one template that can be made at home with template plastic, or you can purchase the acrylic version on Etsy from TCR Engraving.  International customers can purchase from their eBay store.  I will have a tutorial tomorrow on making your own templates using template plastic, but I highly recommend purchasing the acrylic template.  They just make quilting so much easier.
Feathered Nest can be purchased here.
Autumn Walk has been finished since the end of Spring.  I drew this one up over a year ago and it just sat on paper for awhile before I finally decided to get myself in gear and make it.  Once I had it designed, I was having a hard time deciding on fabrics, then Arizona was announced for release.  I knew it would be perfect for this top.  Art Gallery kindly sent me the fabric ahead of it's arrival in stores so that I could get right to work on the pattern.  I made it right up, and then I got stalled.  It just sat finished.  I was in a funk and was doubting myself.  It's sat on my design wall for quilt awhile now, and I still love it.  I kicked myself and wrote the pattern up and i'm so glad to bring to have it done.  I am most excited to see what quilters do with this.
The center stag head is needle-turn appliqued and the other elements are foundation paper pieced.  This quilt goes together quickly and was really fun to work on.  I especially loved sitting down and stitching the stag head.  I actually made several of them I loved it so much!  The pattern itself does not include instructions for needle-turn applique, but you could do any type of applique you are comfortable with on this – reverse, top stitched, fused – anything would work.  It is in the back of my mind to write up a post on needle-turn applique.  There are plenty of great tutorials out there if you just can't wait.  I will say that I stitch down my pieces a little differently than most.  Instead of an "invisible" stitch, which is not at all invisible to me, I use the blind stitch, the same as I do for my binding.  You can see how I make that stitch here.  I have done this stitch with applique for years and find it the best for keeping stitches truly invisible.
This pattern does require putting together the pieces that make up the stag head, but all of the pieces are easy to assemble and there are full instructions for assembling.  I've also included a color page for trying out fabric color combinations.
Autumn Walk can be purchased here.
Crown of Thorns is the third pattern in this trio to release.  I absolutely love the simplicity of this top!  It goes together so quickly, and is the perfect quilt for a beginner quilter.  The Crown of Thorns quilt block has been a favorite of mine for as long as I can remember, and I just decided the block itself needed to be a quilt.  This quilt can be made up in a matter of hours – perfect for last minute gifting!  The size is just perfect for a baby, kid or lap quilt.  We'll be curling up on the couch with ours.  While I used colors here that have a more "masculine" feel, sticking in a pop of hot pink for the mustard yellow gives this quilt a more "feminine" feel.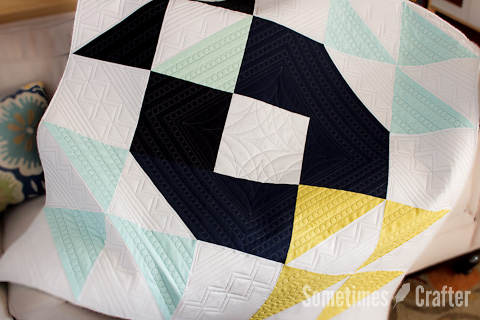 I had a lot of fun quilting this top, and I included the quilting diagram in the pattern for easy reference should you decide to mimic it's graphic appeal.
Crown of Thorns can be purchase here.
All of the patterns are available for purchase in my pattern shop here on my website, and will be added to Etsy shortly if you are more comfortable with that.  All of my patterns are PDF, and are available for direct download after purchase.  And just an FYI, if you are a longarm quilter, i'm looking to offer my original quilting designs after the New Year.