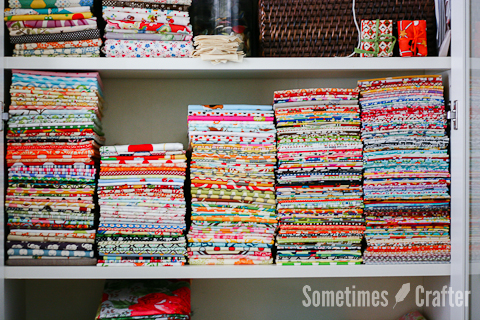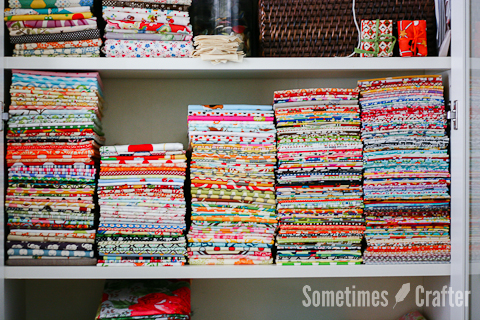 I have finally started the long road to folding and organizing my fabrics.  The cabinet these are stored in now have glass doors on them and so I wanted it to look nice.  Plus, I wanted to be able to see all of my fabric easily, and having them folded this way makes that possible.  So far I've taken two large tubs of fat quarters and pressed out the more stubborn folds and refolded them.  The right two stacks are all fat quarters and most of the middle stack is, too.  The left two stacks are half yards.  This is one shelf of 7 shelves of fabric.
I still have a long way to go, but started in on the yardage yesterday.  Before now I folded the fabric differently and was all different sizes and just didn't look organized.  Now I fold it so that they all come out the same size (no matter the length of fabric) and all have a nice pretty folded edge showing.  Anything under 1/2 yard (that isn't a fat quarter) is sitting in a pile for now.  I'm not sure if I should fold them and place them somehow in the cabinet, or toss them in the [larger pieces] scrap basket.  Odd lengths between a 1/2 yard and 1 yard still get folded for the shelves.  And what do I do with all of my odd sized solid pieces?
So here's my dilemma: how do I sort them once they are all folded properly?  Do I sort the yardage by color?  By designer?  By type?  It use to be sorted by designer and type.  I would have all of my Amy Butler and Heather Ross together, as well as sorted by lines within the designer.  Then I would have it broken down in to types : animals (dogs, cats, dog + cat – I have a whole shelf of these fabrics), children, stripes + dots, holiday, floral, etc.  I still might sort some stuff by designer and type, but for the most part I feel that it hindered me from pulling fabrics for a quilt.  I'm someone that pretty much takes a whole line and makes a quilt and I want to get away from that.  So I feel if I sort by color, and not think about the print itself, I will be more inclined to pull fabrics for a quilt.  But, at the same time, if I'm not wanting dogs and cats in a quilt, it would be better to know they were separate.  So maybe I sort some by color and some by type (holiday, animal, kids).  What do you think?  I'd love your two cents on the topic.
Folding
The method by Happy Zombie is a great way to fold your stash fabric, unfortunately, the fabric doesn't fit on my shelves once folded in half (too long) and I don't think it would work out for folding fat quarters.  Maybe it does, I haven't tried it on fat quarters.  Also, I'm kind of lazy about stuff, and using a ruler to fold over seemed like a lot of work for my stash size.  I can't find a tutorial, so here is a quick look at what I do:
1. Spread out your yardage, fold at the top, selvage at the bottom.
2. Fold the bottom selvage edge up to the top fold.
3. Fold from the top (where the fold and selvage are now) down to the bottom.
4. Fold from raw edge to raw edge (left to right or right to left).
5. Fold this direction again (from fold to raw edge).
6. And there you have it, a nicely folded piece of fabric with selvage edges encased.
This works for any size piece of fabric.  If I have a half yard or fat quarter I skip step 5 and if I have multiple yards I fold it so it is a yards length (36").  If I have odd yard lengths (like 3/4 yard or 5/8 yard) I fold it in thirds instead of quarters (step 4 & 5), making sure my final piece is 9" long (1/4 yards length).  Okay, off to fold more fabric!