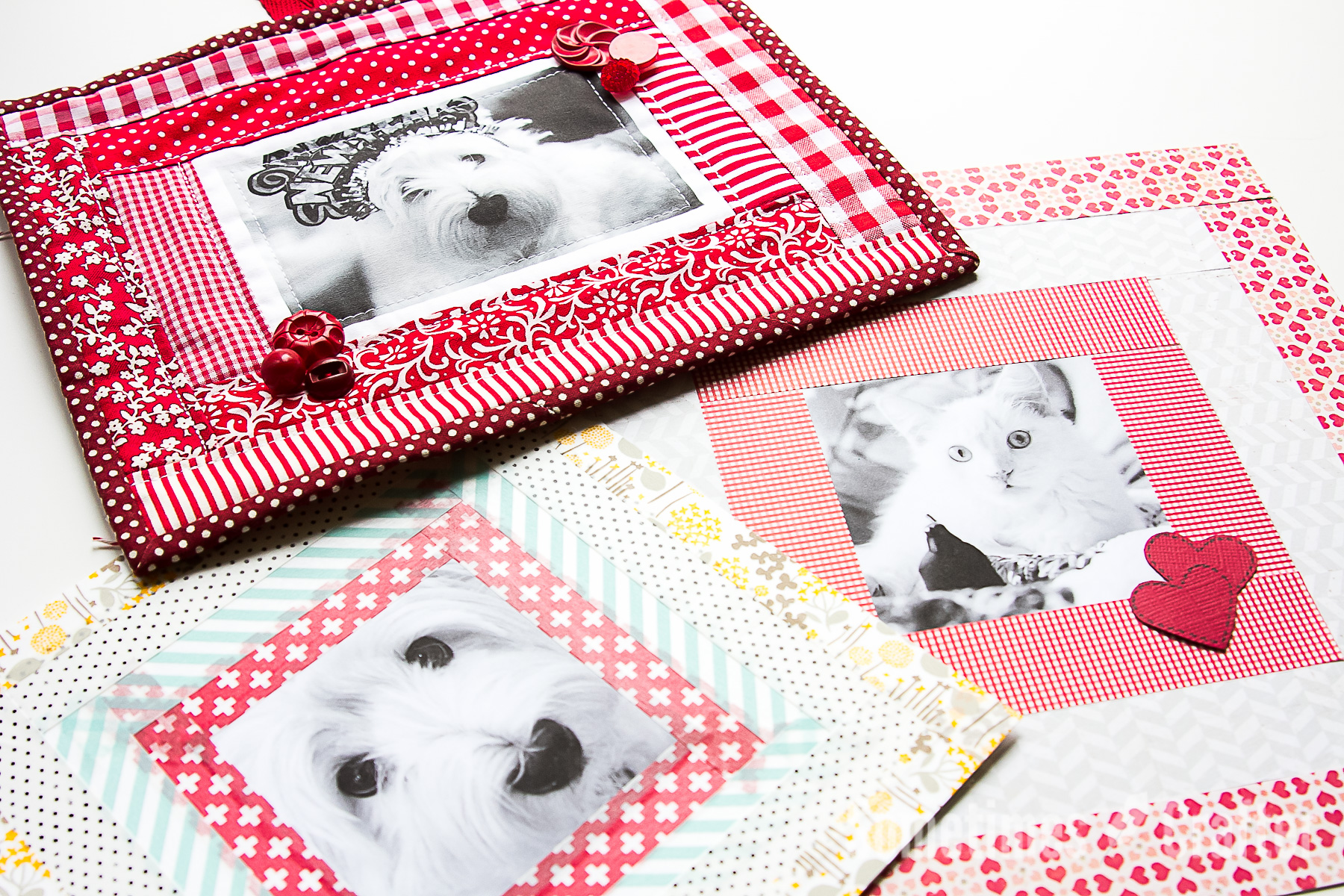 Photo Mini Quilts
*This post originally appeared on the Mastering Photo blog for Focal Press. 
I'm back again with another tutorial on creating with inkjet printable fabric.  As I'm sure you can tell by now if you've read my last few posts on Mastering Photo, I love printable fabric.  I think it's a great way to personalize a gift for someone.  Not only do they get an image they love, but also a handmade gift.  Now, don't despair if you don't sew, I also have a few suggestions for creating a similar, no-sew project at the end.
Supplies
Various fabrics scraps, 1½" wide by various lengths

Buttons for embellishment

Scrap of batting or felt

Fabric scrap for backing

Fabric for binding
To begin you'll need to choose an image to print on the inkjet fabric (if you have a laser printer you'll need to be sure and get printable fabric for laser printers).  I find that I like black and white images the best on this fabric.  No matter the manufacturer (I used printable fabric sheets from C. Jenkins Company for this tutorial, but love EQ Printables as well as Printed Treasures brands also) the photos always look beautiful in black and white.  I make the edits to the photo in Photoshop via the adjustment palette and use Curves to make it slightly over exposed with a deep contrast (a well defined 'S' curve in most cases).  Before I print on fabric, I test print on paper first, and it's usually a close proximity to what the image will look like on the inkjet fabric.
Once you have your image printed, cut it out with a ½" border around the image.  All sewing will be done with ¼" seam allowance, leaving a ¼" border around the photo.  If you want to go borderless, cut out the photo with only a ¼" border.  After cutting out your image begin by sewing a 1½" strip of fabric to each side of the photo.  With the back side of the image up, clip the excess fabric away at the photo's border.  This gives you just the right length of fabric on each side.  You could use a rotary cutter and ruler, but I find just a quick cut with fabric scissors to be satisfactory.  Press seam allowances to one side, or open, as you prefer.
Next, sew two more strips of fabric to the top and bottom of the piece.  Clip the excess as before and press your seam allowances in the same manner.  Repeat and add another strip to the sides, top and bottom in the same manner.  Being sure to clip excess and press your seam allowances.
Layer your quilt for quilting, backing right side down, then your batting, and finally your top right side up.  With all of your layers together, press and smooth out wrinkles from both the back and front of the piece.  Quilt as desired.  For this piece I simply quilted straight lines ⅛" from the edge of the fabric on all the prints.
Attach your binding (I have a tutorial for how to do that here) and embellish as desired.  Finally, add a loop for hanging if so desired.  I simply sewed this on at the end, stitching from the front and keeping the stitching close to the binding so that it was hidden.
So not up for sewing, but still like this idea?  Why not make something similar out of Washi tape or scrapbook paper?  I printed images on 28lb, 92 brightness paper, cut out and taped down to a sturdy cardstock base.  I then proceeded to go round them with my desired material.  The Washi tape quilt was perhaps the easiest, and prettiest.  I just estimated the length of tape I needed, ripped it and taped it down, slightly overlapping the photo on the first pass.  After I had all of my desired rounds I used a rotary cutter (that is specifically for cutting paper) and a ruler to cut it out.  Next, I punched holes and threaded some baker's twine through them and tied it in the back to secure.  It's now ready to hang.
The paper quilt with my kitten, Norman, was made by cutting 1" strips of scrapbook paper to length and taping down with double-stick tape.  After I was done, I embellished with a few paper punched hearts.  It's now all ready to frame and hang on the walls.  And before you think these are too simple and you aren't sure if someone will like them…mine have already been taken off my hands by their intended recipient.  She simply couldn't wait for Valentine's Day to receive them.