Feathered Star Quilt
Remember the days when I use to blog daily…yeah, me either.  It's been so long since I've done any regular blogging and every year I tell myself this is the year I get back on track.  It just never seems to happen.  Social media has taken a backseat to actual life more and more every year.  I had a Facebook for years and I officially got rid of it two years ago.  Best decision I ever made.  I still like to share over on Instagram, but I don't really spend a lot of time on there and I mostly share daily going on's and sometimes forget to share my client quilts all together!  Bad business move, I know.  Today i'm popping in to share this custom quilt I did for Ginger Gilbreath in March of last year.  Almost a year ago!  I haven't talked to Ginger recently, but I know the original plan was to enter this one in shows.
I've quilted custom quilts for Ginger before and she is one of those awesome clients that tells me to just do what I want.  That's always a little scary, but the "I love it!" email when they get it back makes it worth it.  Because this quilt was only 36″ x 36″ and strictly for shows and later wall hanging, I decided to layer two battings.  I did a layer of Quilter's Dream poly on the bottom and wool on the top.  The poly gave it a nice stability that will help it hang well and the wool gave the quilting a nice pop, especially since I went a little denser with the quilting on this.
Custom typically tends to be on the denser side, but knowing this was for show I wanted to quilt it to it's fullest (without being too much).  There is always a balance with custom.  You don't want to detract from the quilt itself, but enhance the piecing and design.  Too much quilting and that's all you notice, too little and you don't notice enough.  It's all about balance and I think that was achieved nicely on this one.
All the designs were custom designed by me for this quilt.  I draw it up and render it on the computer for the Statler to stitch out.  Custom quilting isn't only about putting certain designs in certain places, but also creating designs that are custom to a quilt.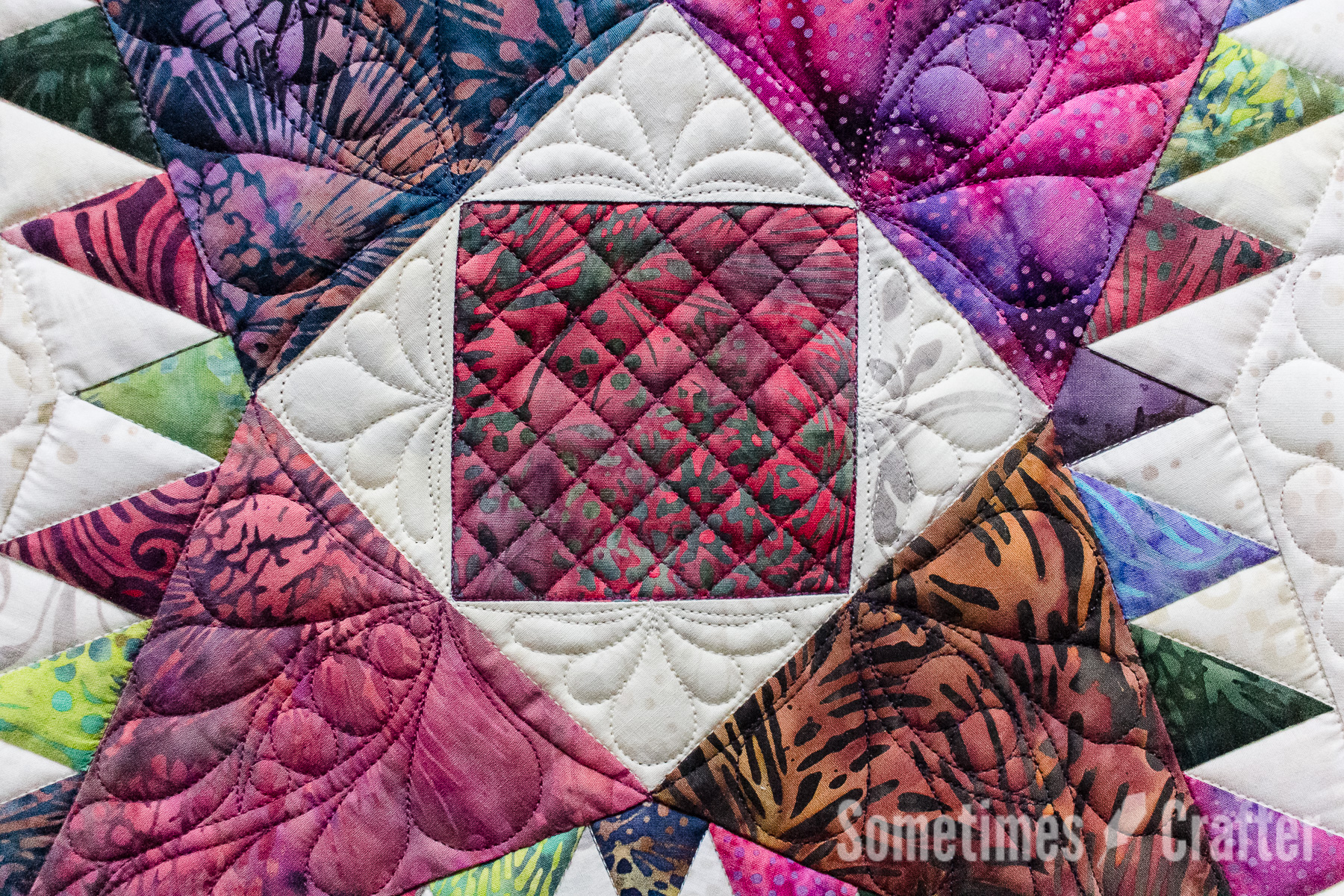 Some quilting, like the cross-hatching in the square centers, and the stitching around the "feather" triangles were done by hand with a ruler.
I love that she went with a more solid batik backing – it really allowed the quilting to be seen.