Painted Basket Quilt
This pattern can now be purchased here!
A few weeks ago Art Gallery Fabrics emailed to see if I would be interested in creating something with Katarina Roccella's new line, Imprint.  I really like Katarina's designs, but I'm sure you have noticed from my last few quilts, I tend to go for lighter colored fabrics that have very little in the way of saturated color, and Katarina's fabrics never lack for beautifully saturated colors.  I almost said no because of my desire to always create things that are light and bright, but then I had a peek at the lookbook and there were a few quilts in there that were phenomenal!  Even with all of the deep, rich colors, the quilts didn't feel heavy at all.  After falling in love with those quilts, I took it as a personal challenge to come up with a quilt that was equally as light feeling, even with the use of saturated colors.  I also couldn't pass up the chance to create a quilt with navy, pink and mustard – I have a little crush on that color combo.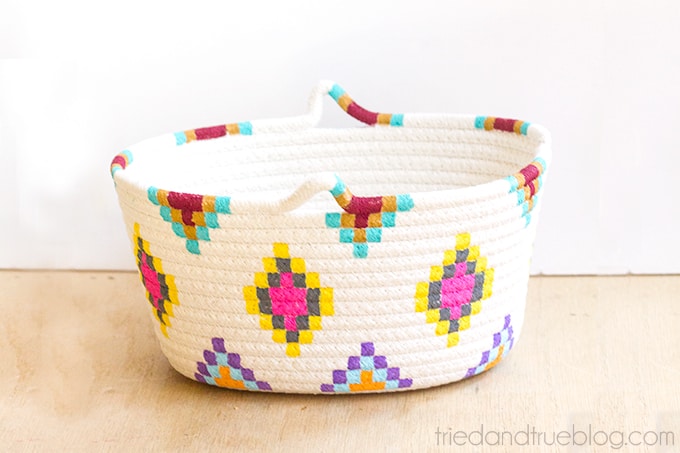 I was having a really hard time coming up with a pattern design.  I probably created at least a dozen different designs, but none of them really hit the mark.  My girlfriend Liz stopped by as I was trying to find something, fearing at that point that I was going to have to pass on this opportunity, when she showed me a photo that was just perfect!  This is a painted basket by Vanessa Brady of Tried & True and was the inspiration for this quilt.
It took a little time to figure out fabric placement and a streamlined way of putting the blocks together, but after a few blocks it went together pretty quick.  It took me just a few evenings of sewing to get it all put together and on to the longarm.  Where it sat for a few days while I figured out how I wanted to quilt it.  Per my usual.  In the end I settled on this great square in a square design, that has a southwest feel like the quilt itself.  I always want to do something spectacular, and custom on my quilts, but honestly this was another one of those quilt where keeping it simple with an edge-to-edge design was absolutely the right choice.
For the background I used the Maze Clarity print.  I love when I have an opportunity to use a print for my background.  If you have been visiting my blog for awhile, you know that I find it hard to step outside of my comfort zone, which is solid fabrics, usually white, as my background for quilts.  It gives it a clean palette, like a blank piece of paper, but I really love when I find a print that I can use as a background fabric.  This print is soft and subtle, but gives a little bit of interest to the background.  Since the quilt has such a southwest feel to it, I think a background print was essential.  It gives it just a little bit of texture, that works so well with the bold colors in the blocks.
I backed the quilt with Crossthread Pure.  Normally I try not to back quilts in a light fabric, as I have a house full of boys that use any quilt they can find.  However, I knew right away this would make a great backing for the quilt.  The little bit of grey running through it will help to disguise any grubbiness from the boys.  I also like how well the fabric shows off the quilting.
As the quilt top was coming together on my design wall, I really felt like this was going to be the perfect quilt for hanging out on the couch this fall.  I think it's the saturated colors and design that give it the feel of autumn.  This will definitely take us through November.
I'm really happy that I challenged myself to work with these fabrics.  I just love the quilt I created, and am so pleased with how the colors all work together.  I stepped out of my box and used saturated colors, as well as a print for the background, and I just couldn't be happier with the results.  Quilts like these give me more confidence to push myself in the future.  This fabric collection has so many great prints for use as blenders with other lines as well, which is a big plus to me.  I like having good foundational pieces that can be used over and over again.  Be sure to check out the lookbook to see the other quilts that were created with these fabrics – I bet you will fall in love with Imprint, too!
Imprint Fabrics by Katarina Roccella for Art Gallery Fabrics
Fabric for this quilt was graciously provided by Art Gallery Fabrics.