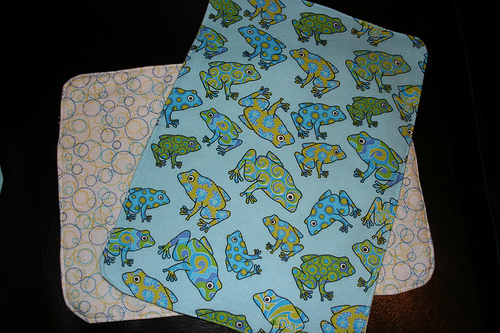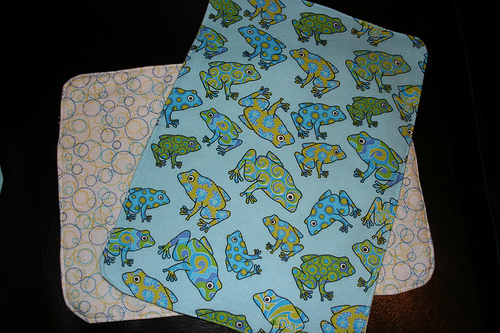 I thought i'd do a quick "how to" on the burp cloths I made the other day. I didn't take pictures as I went along, but really…it's so VERY easy! I got a 1/2 yard of two different fabrics for each set of burp cloths. This allows for a contrasting fabric on the back. 1 yard of fabric makes 4 burp cloths.
1.  Iron your 1/2 yard of fabric (to get out all the creases) and fold it into fourths.
2.  Cut through all four layers a 10″ x 14″ rectangle.
3.  Repeat steps 1 & 2 for the second 1/2 yard of fabric.  You'll now have 8 rectangles to make 4 burp cloths.
4.  Put the right sides together of two different fabrics. If you so choose, round off the corners (this is what I did and can be seen on the finished product above)
5.  Sew 1/4″ around the edges, leaving an opening on one side to turn it right side out.
6.  Turn right side out. Iron edges flat, turning opening inward.
7.  Top stitch around edges. (I just did 1/8″ from the edge with a straight stitch.)
I got this fabric at Joann's. It was $3.00/half yard. So for $6.00 I made 4 burp cloths. That's just $1.50/burp cloth. I really like this smaller sized burp cloth. Easy to carry around and wipe up messes.