Quilt It Modern // Riley Blake Solids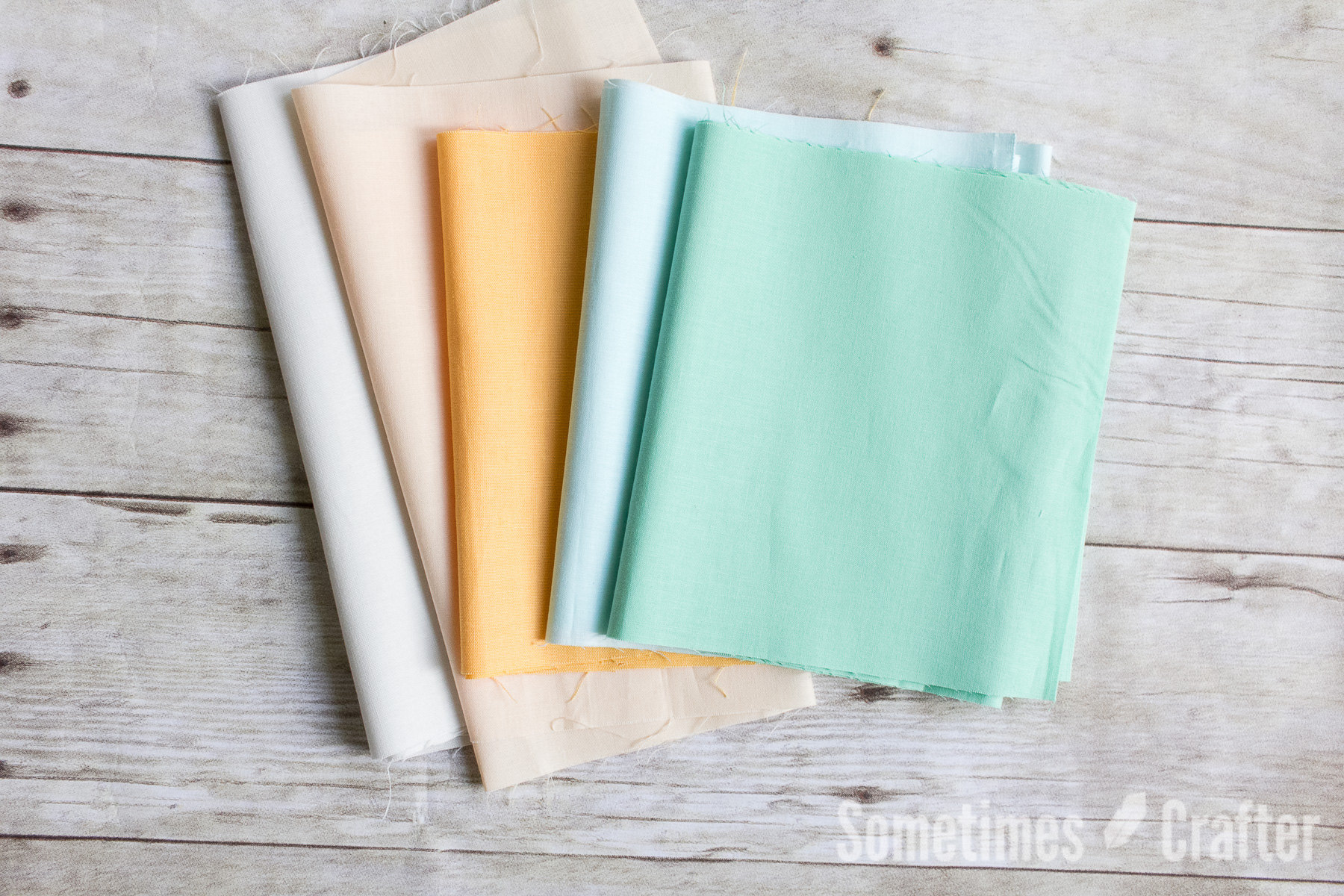 Riley Blake Fabrics has been hosting a blog tour to get the word out about their new colors in their Confetti and Crayola Color collections.  I was really excited to see all the great colors, since so many of them are colors I look for and have a hard time finding.  I know it seems funny to think I can't find the solids I need when there are so many out there, but I do. The colors just never seem to be what i'm looking for, so I was very pleased to see so many of the colors i'm often searching for in their line up.  I wasn't sure what I wanted to make so I just asked if they could send me an assortment of light, soft colors to play with and these ended up being some of my favorites from the grouping.  (From left to right: Light Grey, Latte….we think…, Harvest, Bleached Denim, and Sweet Mint.)
I've been playing around with the solids for a few weeks now, making lots of little things, not really sure what they would become.  Then I looked over next to my desk and realized my hoops really needed to be updated, so these will replace some of the hoops on my wall.  I love the simplicity of solids, it really lets the patchwork shine.
I've had this curved flower design in my design files for a few years and when I saw these colors it was the first thing that popped in my head.  I love how the center of the flower also looks like the sun rising.  It was so nice to get this idea finally made.  The flower is Latte (I think) and Harvest, the stem is Riley Lime and the background is Light Grey.
When the solids first arrived I just started cutting and piecing and these great, 3-color random blocks…but what to do with them?  Since I was in the mood for curves, I pulled out the template from my Ornate Mini Quilt pattern and got to cutting.  I was happily surprised with the design that was created once they were all pieced.  It was all by accident, but that X in the middle was just perfect.  A simple drunkards path circle with a modern-improv flair.  It's nice when things work out without even trying.  The background is Pearl and the circle is composed of (from left upper curve): Pewter, Bleached Denim, Celery / Riley Aqua, Gray, Harvest / Riley Aqua, Celery, Pearl / Baby Pink, Harvest, Sweet Mint.
Finally I have a little cactus.  I have plans of making a few more of these in different shapes for a little collection of cacti on my walls.  As you can see from the piecing, this was very simple to make.  I just started sewing green pieces into my background color and arranged into a cactus shape as I went.  I'm thinking this needs a little bit of embroidery to finish it off.  It's not a cactus without some prickly pieces on it.  The cactus is Riley Lime and the background is Light Grey.
Riley Blake's colors really are my favorite now, so i'm very fortunate that they asked if I'd like to participate in this blog hop.  I'm so glad I had the opportunity to try these out and I am going to be ordering some of my favorites to have on hand for future projects.  The Light Grey has become an absolute favorite of mine now!  Be sure to visit everyone else on the blog hope to see more of the colors offered and the great projects they've created.
June 27: A Bright Corner // Salty Oat
June 28: Trillium Design // Allison Sews
June 29: A Quilter's Table // Bonjour Quilts
June 30: Euphoria Jessica // Material Girl Quilts
July 1: Samelia's Mum // Sassafras Lane
July 5: Quilt Matters // During Quiet Time
July 6: Sometimes Crafter // Modern Handcraft
July 7: Orchid Owl Quilts // Piece and Quilt
July 8: Sew Katie Did // Tumbling Blocks // Leigh Laurel Studios