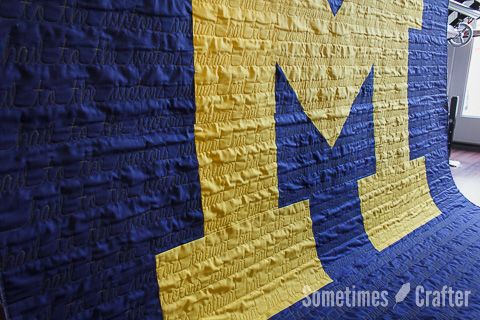 Quilting A Fight Song
As Christmas was approaching I had an email asking if I was still accepting quilts returned in time for Christmas gifting.  It just so happens that I was, but just barley.  Jennifer asked if I could quilt the chorus from the University of Michigan fight song onto a quilt she made for her son, who is currently a student there.  I just love being a part of a gift like this.  Quilting a quilt that will be loved and cherished is always special, but a quilt like this is just a little more special and to quilt it specially with words of meaning gives me even more joy in the process.  I love being a part of that.
Words are hard to come by for the computer quilting system, so I have to draw them out in CAD, letter by letter and find out how to make them fit together, as well as fit the quilt top.  Yes, it can be free-motion quilted, but I always worry about going sideways, or letters not being uniform in their size, and for some that is the joy of the look, but for me I like things a little more "perfect".  I really enjoy working in CAD and designing just the right quilting design, and this was no exception.
A few weeks after Christmas Jennifer shared this photo of her sons quilt in his dorm room.  She said he is so proud of it and hangs it off his loft when he's not using it.  He says that everyone is "hella jelly".  As a mom, I know what a great feeling it is to have your children love and appreciate what you made them, even more so when their friends covet that special piece.  I am so glad I got to be a part of this quilt and it's story.  It's one of those times when I really do find happiness in quilting.  Thank you Jennifer for entrusting your quilt to me.  It was beautifully made and a joy to quilt!