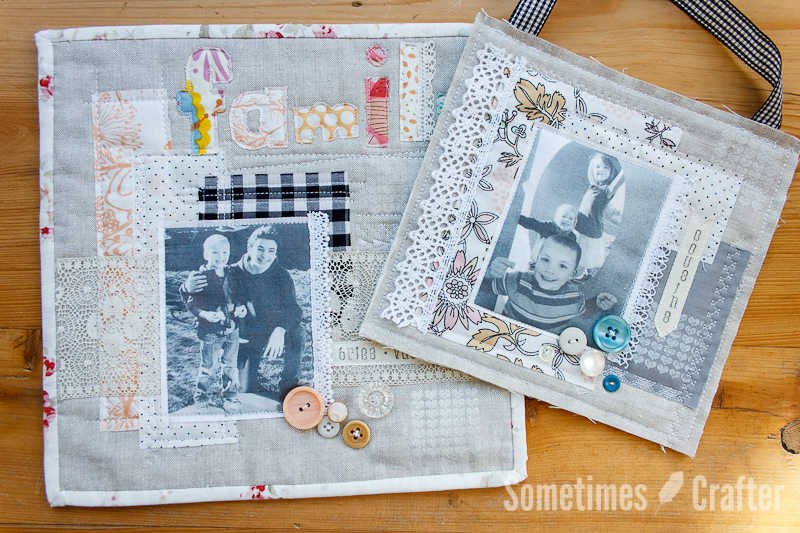 Collage Mini Quilts
Don't miss out on the giveaway Modern Sewciety is having for one of my calendars and a set of my PDF sewing patterns!  While you're there, be sure to listen to our chat on the Podcast.
+  +  +
Brice and I spent the last week in California visiting family.  Because of his alternating kindergarten schedule, and the holiday weekend, we had a week off school (and then one day back for another long weekend).  My dad flew us down, and my mom tagged along, and we had such a great time with the family.  I love that my parents still get along so great.  It was so fun to spend one day at the science museum with my mom and stepmom and all the cousins.  I think my mom fell in love with my sister's little girl.
One of our days in the Bay area we headed up to my cousin's house to visit.  She and my dad are first cousins, so that makes us first cousins once removed and her children are my second cousins and that means Brice is…well, it gets complicated and so we'll just stick with the fact that we visited with some extended family.  We had such a lovely visit with them.  We have a very large extended family on my dad's side, but so rarely see any of them (as most of them live in Minnesota), but thankfully there are enough of us that appreciate having the family we have, and make the effort to visit with each other.  Two of my great aunts, and my cousin we visited, are all very creative and like quilting.  My dad's sister is also a quilter, so it's not hard to see that it runs in my blood.
My cousin is a professional embroiderer, with a shop in San Francisco, but she also quilts.  She lives just a little bit north of San Francisco proper, and I just love the area they are in.  It reminded me a lot of the Portland area, only sunnier.  We were so lucky to visit at an unseasonably warm and dry time.  We ended up taking a walk down to the park in their town to see the Indiana Jones statue, which of course Brice flipped over.
I wanted to send a thank you for having us over for lunch and having such a nice visit (and she sent us home with baker grade Ghirardelli and a yard of some awesome fabric).  I knew she would appreciate handmade, and that she loves the family connection as much as I do, so I felt this was the perfect gift to send her way.
The main reason for my visit was to see my dad and sisters and my sister's kids.  I'm not sure how many of you know, but my dad remarried and had three more girls, so I have three sisters all quite a bit younger than me.  The oldest is 23 today, the next youngest turns 20 this weekend and the baby of the bunch just turned 16.  Funny story, when she was a baby I refused to hold her in public as everyone thought she was mine and gave me dirty looks since I was about 18.  We had such a fantastic time with everyone.  I mostly visited with the oldest of my little sisters as our kids are all very close in age.  We spent one day at the Lawrence Hall of Science in Berkeley, and another day at the beach in Santa Cruz (hello 80 degree weather!).  There was lots of time spent playing at "Grandpa and Grandma's" house and we even managed a dinner out with everyone.
To show my appreciation for inviting us down for a visit I wanted to make them something special as well, and though a mini of the cousins together would be a great way to remember our visit.  I know it's something my niece and nephew will love to see hanging at my dad's.  They just love visiting with Brice and it always makes us a little sad that we live so far apart.  Thankfully, it's not so far that it makes visits impossible.
I had such a great time making these.  I simply chose scraps of fabric from my scrap bin and sewed them down and then printed pictures onto printable fabric sheets on my inkjet (and sewed those down too).  Then I added some stamped ribbon to each one as well as some stamped hearts onto the fabric.  Then I sewed on lace and buttons for a final touch.  Very simple and full of love.