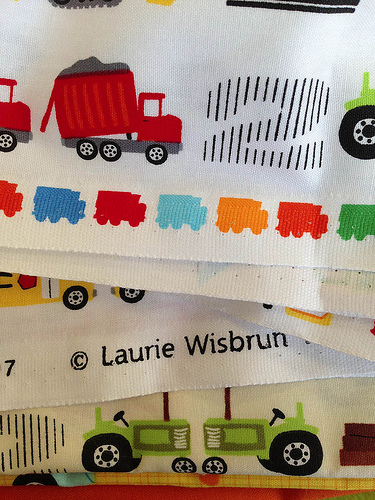 Trucks and Tractors Quilt
Laurie Wisbrun has designed the cutest line of fabrics featuring trucks and tractors.  With a little boy in need of a bed quilt I couldn't say no when Laurie asked if I'd like to play with the new line.  They are great prints for a quilt that has large spaces to show them off in.  It was one of those lines of fabric that I knew exactly the quilt I wanted to make with it.
This quilt is the Crazy Strips pattern from Quilting Happiness.  In the book it calls for yardage of two fabrics, but I was really wanting to give the pattern a go with multiple fabrics.  For this top I used half yards of four of the prints from the line and four solids Robert Kaufman Fabrics sent along (listed at the end of the post).  It worked out to be the perfect amount of fabric for the top and a great distribution of color and print.  Things have been so crazy that I haven't had a chance to quilt it yet, but hoping to do that in the next few weeks.
When I had the quilt top all finished I walked it out to the living room to show Brice.  I asked him if he liked his new quilt and he said: "Oh it's so cute!  I love the cute little trucks!"  With a reaction like that, you know it's truly a success.  I know he's going to have a quilt to love over the years and will spend so much time looking at all the great trucks and tractors in the fabric, deciding which is his favorite.  I had a great time working with this fabric and loved the opportunity to make a quilt from the book again, but in a different way.  To me, it's the perfect "guy quilt" pattern and it worked out perfectly for my little boy, too.
Now for the fun part – a giveaway!  Use the handy-dandy Rafflecopter form below for a chance to win a fat quarter set of the Trucks and Tractors line from Laurie and Robert Kaufman Fabrics.  I included a "Tweet" option to give you an extra chance at winning.
Fabrics used in the quilt are: Trucks & Tractors AWN-14197-204 Primary, AWN-14197-237 Bermuda, AWN-14198-204 Primary, AWN-14198-237 Bermuda, Kona Solids in 1265 Orange, 1514 Robin Egg, 254 Sprout and 1194 Lipstick.