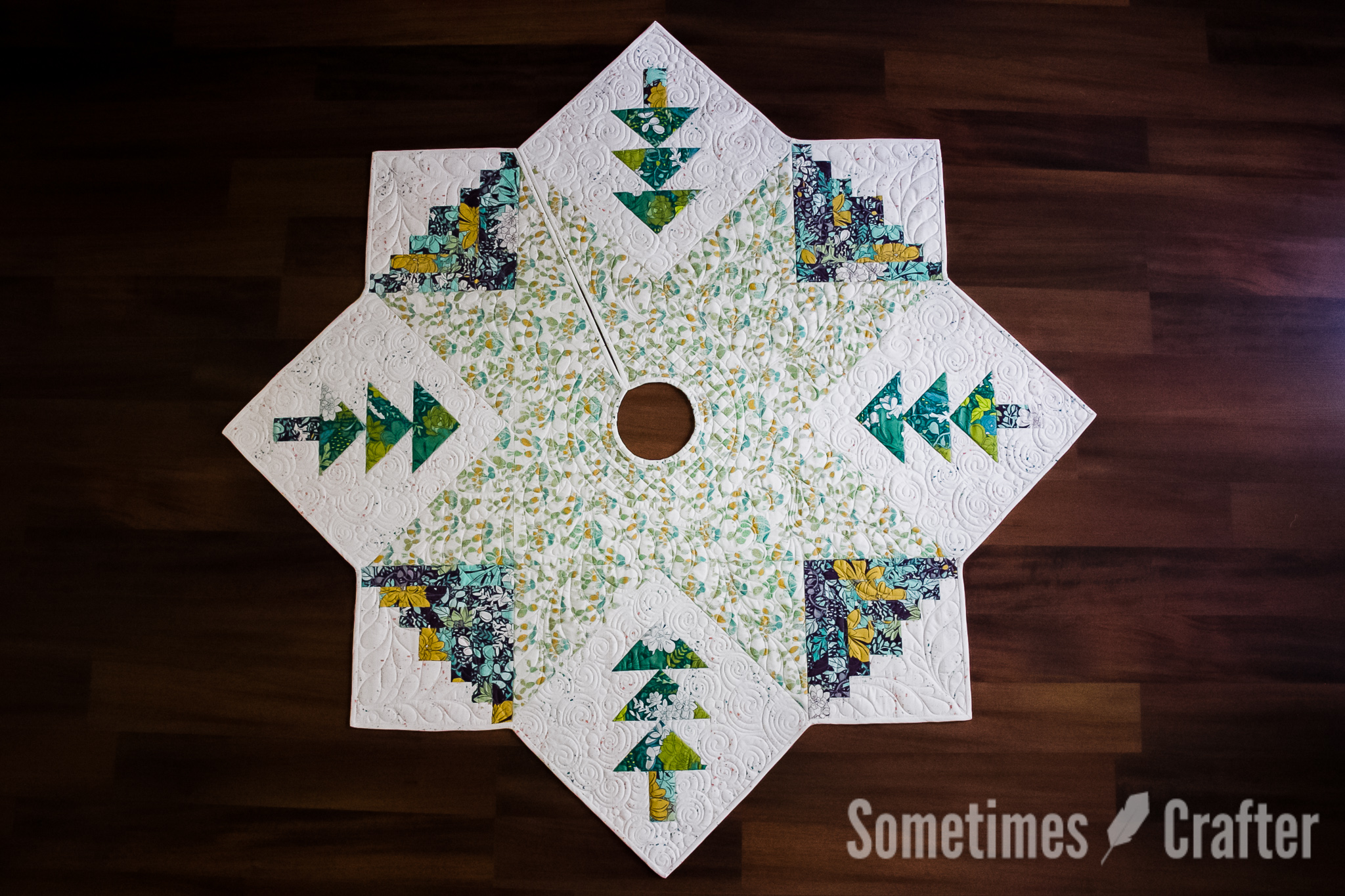 Quilted Christmas Tree Skirt
** Modern Christmas Tree Skirt Workshop on December 5th at Modern Domestic!**
This has to be one of the most requested patterns i've ever had.  Since I first made this tree skirt for a Flickr swap years ago I have gotten many emails requesting a pattern for it.  I always had intentions of put it together, but just never got to it.  I finally decided it needed to be done.  I really wanted to do something outside of the box as far as fabric choices went and I immediately thought of Succulence for this tree skirt.  Even though the colors are non-traditional, I think they work perfect.  The little bit of shimmery copper metallic in the fabrics doesn't hurt either.
The tree skirt goes together very quickly.  I have made a couple now and I can literally have it made, from cutting fabrics to loading on the longarm in less than a day.  I think it takes longer for me to bind it than it does to make it, and I think that's just perfect with that crunched feeling from Halloween to Christmas decorating time.
The pattern is 14 pages of detailed diagrams and instructions.  I broke each block down into its own instructions with a detailed list of what fabric is required for each block, making it easy to swap around fabrics and make a scrappier version of this if you so choose.  I also included a coloring page where you can test out colors or doodle quilting design ideas.
For the pattern sample I quited a medallion in the center of the tree skirt and did different designs in the different blocks, but you could just as easily simplify it.  Since this is a tree skirt, I think it's the perfect time to do tie-quilting, or give it a very simple quilting job on your domestic machine.  Cross-hatching in the center star (did you notice the center was a star??) and simple stitch in the ditch around the trees and log cabins would be more than adequate.
The opening on the back couldn't be simplier.  I did not use buttons or ties to keep it close, as it will lay nicely around your tree just as it is.  Why complicate things when there is no need?  I have to say the most difficult thing about this pattern would be the binding, but don't let that scare you off.  You do have a small curve to go around for the center, but I walk you through creating French fold bias binding, and after it's sewn on the front it's pretty much just the same as always on a quilt.
I am so excited to finally release this and I hope you love it just as much as I do.  Art Gallery Fabrics so graciously provided the fabric for me to make this tree skirt.  I honestly couldn't imagine making this out of anything else and i'm looking forward to having it around the base of our tree this year.
Pattern: Quilted Christmas Tree Skirt
Fabrics: Succulence by Bonnie Christine for Art Gallery Fabrics
Batting: Quilter's Dream Poly Select