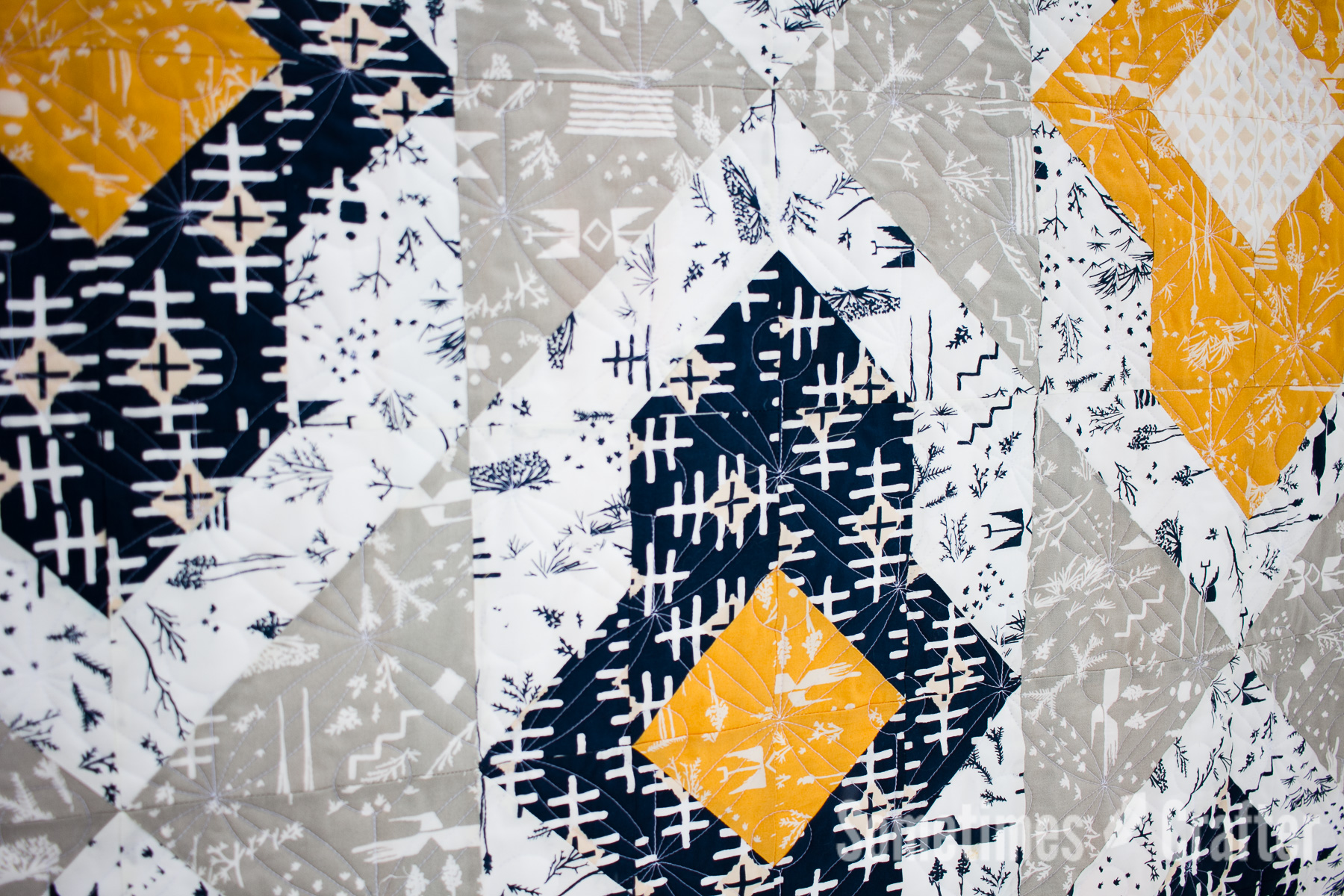 AGF Stitched // Locket Quilt
I'm a week late posting my AGF Stitched quilt for the last quarter of 2015.  December threw me for a loop, not least of which was because I had a horrible flu that just wouldn't go away.  Despite all of that, I was able to finish the 4th quilt in the AGF Stitched series.  It's the Locket Quilt pattern (a free download) designed to feature Amy Sinibaldi's new fabric line for Art Gallery Fabrics (which I just love).  For my version of the Locket Quilt I used fabrics from April Rhodes Bound fabric line.  As i've said with the past quilts, I like a subtle, light feel to my quilts and I like how neutral the Bound fabrics felt in this top.
The quilt pattern itself is pretty straight forward and went together quickly without any special tools.  However, I did have a handy piece of plastic called "The Angler 2" which they don't seem to make anymore.  There is an alternative product called Clearly Perfect Angles which Fat Quarter Shop sells and has a YouTube video on how to use.  It saved a ton of time marking those squares for sewing those HSTs, so I highly recommend using one, even thought it's not part of the pattern directions.  You'll thank yourself for all those future half square triangle projects that come your way.  I know I was really glad I remembered I had one sitting in my drawer when it came time to work on this quilt.
I decided to quilt it up with this beautiful pattern called Little Lindie.  I think it was just the right feel for the quilt top and fabrics.  It complimented the "locket" feel and was just the right about of density.  I just have to stitch the binding down to the back and it will be ready for snuggles on the couch.  Check out Fat Quarter Shops blog post to see the links to all the participants versions of the Locket Quilt.
Quilt Pattern: Locket Quilt
Fabrics: Bound by April Rhodes for Art Gallery Fabrics
Quilting Design: Little Lindie