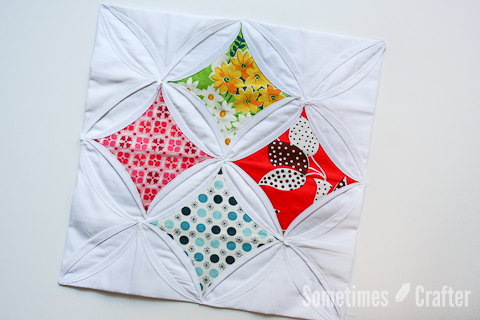 Cathedral Window Block
9/19/2020 – Just a quick note since there has been so much traffic to this tutorial lately.  There is no pattern to download for this block, it is simply a photo tutorial to help you make the block you see in the photo.  
Here it is, Septembers block of the month. Finally.  The title of this post should really be "adventures in sewing".  I have to say, I love how this block looks, but until I find yet another way to do this, I think this will be my only cathedral window for awhile, although I did find some short cuts that I haven't seen discussed elsewhere.  In this tutorial I will give the measurements and instructions for making a cathedral window block for the quilt along.  At the end I will have a lot of links to different tutorials, all of which I read before doing this one to find what might work best.  I'll also discuss my shortcuts in the hopes that it will help you.
Directions
First off you will need to choose a background fabric (in my case I chose white) and cut yourself 4 – 12 1/2" squares.  You will need to choose 4 prints for the "windows" and cut them about 4 1/8" square.
1.  Fold your fabric in half, right sides together, and sew down each side.  Clip the corners.
2.  Pull open your fabric and match the seams you have just sewn.  Pin along the edge and sew across, leaving an opening at the center to turn right side out.
3.  Turn right side out and iron.   Don't worry about the hole left from turning, that doesn't need to be closed.
4.  Fold in two opposite corners to the center of your square and press.
5.  Fold in the other two corners to the center and press.
6.  Flip over and leave to cool.  I find this helps to keep its shape.  Complete the other three in the same fashion.
**Note** No matter how hard I tried, I couldn't get my points to match up perfectly in step 5.  I just did my best and fudged it later on.
7.  Placing two of these pieces on top of each other (backs together) sew along the crease line you pressed in the last step.  Complete for the other two pieces.
8.  In the same fashion, sew together your two pieces creating a block of four as shown above.  Your triangles are going to be what forms your window.
9.  Lay your prints inside of those triangles that you sewed together to attach your white squares.  In the photo above for step 8, you can see how the two triangles form a square on point with a seam down the center, this is where you will want to lay your print.  Pin in place.  Repeat for the other three prints.
10.  Roll over your edges of the triangles and pin.  I found pining at the ends and in the middle was best.  You will see a natural curve in the fabric as you pull it over and pin it.
11.  Machine stitch from one end to the next along the curve of the folded over fabric.
12.  Repeat step 11 for all sides and all prints.
Now, you could stop at step 12 and leave your corners unrolled, or you can create the rolled edges on the corners as well.  You may decide to put fabric in the "half window" along the sides, or leave it white as I did here.
You may not find that you have this problem, but I found that when I sewed together my two sets of squares in step 8, I was left with a little hole in the center of my four white squares.  After I had completed my block, I simply went back and very discreetly closed the hole.  I did my best to run my needle and thread through the layers of fabric so as to hide any stitches.  You may not have this problem, but I suspect this had to do with my squares not being perfectly square at the start.
So now for how I made it easier on myself.
1.  I used Steam-A-Seam on my prints and ironed them in place.  Now I didn't need to worry about my fabric shifting as I was sewing those edges down.  The down side to this is it's a little stiff.  I'm hoping after a good wash that this will soften up.  But I'm not sure that it will.  Because I did this, there is no poofing of the fabric, which can be kind of nice, but it saved my sanity.
2.  I used Elmer's Glue to glue down the edges of my white fabric on the windows.  I pressed it with a hot iron to heat set it.  Because this is water soluble, it will wash out once my quilt is washed for the first time.  This made the process of holding the edges down and sewing them in place SO much easier.
Update 9/19/2020 – A lot of these links are now expired, however, because they were originally used in reference to making this block I am leaving them in place to be sure everyone who originally created blocks is given acknowledgement. Links with a strikethrough no longer work.
And now to the links.  I referenced each of these tutorials before making this block myself.  Each was a little different and had some great things to offer.  If you are thinking about doing this block, I suggest visiting each of these sites.  Good luck and I hope you'll share your experiences (and blocks) with me here and in the Flickr pool.
1.  Hyena In Petticoats – Cathedral Window Quilt Tutorial (perhaps the most popular);
2.  Angie's Bits and Pieces – Cathedral Windows (she has a great chart for figuring out what size to cut your fabric for your desired square size);
3.  Treadleworks by Tammy – Cathedral Window (great run down from a class she took);
4.  Making Ends Meet – Cathedral Window Tutorial (great, basic instructions);
5.  Quilter By Design – Cathedral Window Quilt (gives fabric requirements);
6.  Heartland – Flower Cathedral Window Quilt (gives fabric requirements and instructions with a few tips);
7.  Kosher Nostra – Cathedral Window Quilt Pattern (a twist on the classic);
8.  Sunshine Creations – Mock Cathedral Window (get the look with out the work).  She also has a tutorial for the traditional block on her blog.
Fresh MD blogged almost a year ago about this cathedral window quilt (above), c.1950, that she picked up on Ebay. I absolutely love it and would love to have one like it some day.
Finally, here is a mosaic to get you inspired to make your own (click on the photo to follow the link for more information on each photo).  I wish I had some more patients for this block, I'd like to make some pillows or even a quilt, but maybe after the holidays are over.  And of course we can't forget our inspiration block by Rita, whose Flickr photostream is a constant source of inspiration for me.  The second photo is one of her beautiful blocks.
9/19/2020 – This is not a full quilt pattern, and there is nothing to download.  This is simply a tutorial to make a block.