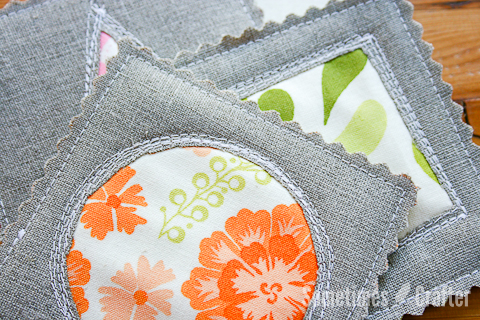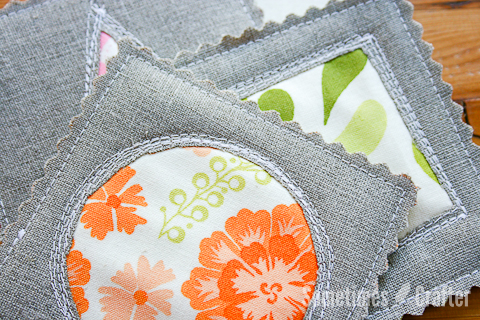 I made some of these for my friend for her birthday.  They are so quick and easy!
Directions
1.  Cut out your fabric for the top and bottom, and a piece of batting to sandwich between, 4" square.  Gather scraps, at least as big as the area you want to show through on top.  I cut my scraps to 4" square, also.
2. Draw your design, to be cut out after sewing, on the backside of the scrap fabric.
3. Place the right side of your scrap fabric to the wrong side of the top fabric.  Sew around your design 3 or 4 times.  Have fun – don't be too accurate!
4.  Cut out your design from the top fabric, staying within the lines of your sewing.  I used my Gingher appliqué scissors.  (You've just done reverse machine appliqué!)
5.  Layer your pieces together as follows: bottom: wrong side up, batting, top: right side up.
6.  Stitch once around design to secure pieces.  Stitch around edge of whole coaster, approximately 1/4" from the edge.
7.  Using pinking shears or a pinking rotary cutter, cut the edges of your coaster.
I lined up a ruler with the 1/8" mark on my edge stitching and cut with a rotary pinking blade.  Be sure to keep your coaster somewhat square during this process.
8.  Grab a glass and enjoy your new coaster!