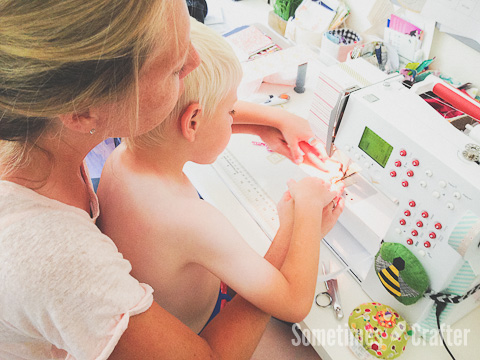 Will You Teach Me To Sew?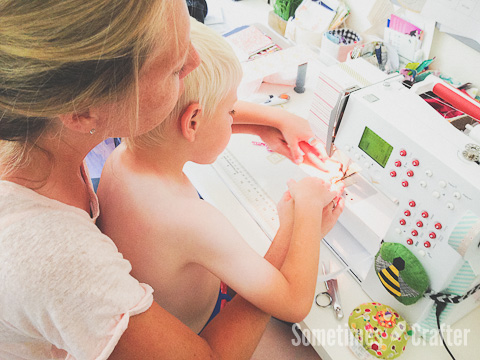 I was actually a little surprised when my 6-year-old son asked me this question a few weeks ago.  "Suuuure…" I said  "What would you like to make?"   He decided he wanted to make a quilt for his Auntie Annie.  I told him to draw what he wanted to make, which of course ended up being this really complicated snow scene, so instead we sat down and looked at photos of quilts on Pinterest to find something.  I opted for an easier pattern since I wanted him to be the one making this, with only backup help from me.
He picked out all the fabrics on his own.  I pulled out pile after pile and he picked what he liked, with a childs abandon and no regard for what went with what.  There were some long treasured fabrics in his choices, that I badly wanted to say no to, but I let it be.  I'm still patting myself on the back for that.
He helped me iron some of the fabrics.  We talked about iron safety of course.  He ironed a few pieces, but I did most of them.  I didn't let him off the hook entirely, though.  He had to hand me the fabrics to iron and then lay them into a pile together once that was done.  Next we moved on to cutting.  He sat in my lap on the floor and we laid out the fabric, lined up the ruler and cut with the rotary cutter together.  Again, he did a few with my help and then he moved to the side and handed me the fabrics to cut.
When it came time to sew he once again sat in my lap and together we pieced.  I had him rest his hands on mine and I worked the pedal under the desk.  He was incharge of the backstitch button.  We talked about how important it was to keep our hands away from the needle and to take our time when piecing.  He really enjoyed this part of it.
After awhile he moved to the side and handed me the fabrics in the order he wanted me to sew them.  We did three long strips of random width pieces, so piecing was fairly simple.  For the most part, I didn't move fabrics around.  I just let them fall where they may.  If you know me well enough, you know that's a big step for me.  Many aspects of this project were a big step for me in letting go.  Knowing it was for my son and his desire to learn something new made it a lot easier.
Once the top was all sewn together we looked at quilting patterns and he picked the one he liked best.  After that it was up to me to finish the quilting and binding.  I'm still finishing the binding, so i'll have to share the quilt a little later.  He wa so excited to give this to his Aunt.  He hasn't asked to sew anything else.  I think more than anything he just wanted an excuse to be in my quilting studio with me, doing something together.  That's fine by me.  I'll say yes to that any day.